Welcome to The Gaming Forums
Register now to gain access to all of our features. Once registered and logged in, you will be able to create topics, post replies to existing threads, give reputation to your fellow members, get your own private messenger, post status updates, manage your profile and so much more. If you already have an account,
login here
- otherwise
create an account
for free today!
Welcome to The Gaming Forums
Welcome to The Gaming Forums, like most online communities you must register to view or post in our community, but don't worry this is a simple free process that requires minimal information for you to signup. Be apart of The Gaming Forums by signing in or creating an account.

Start new topics and reply to others
Subscribe to topics and forums to get automatic updates
Get your own profile and make new friends
Customize your experience here
Board Statistics
Total Posts:

550371

Total Topics:

15816

Total Members:

5899

Newest Member:

Online At Once:

138


04-September 11
Posted by Sousuke - Apr 14 2012 01:34 PM


The Gaming Forums is a forum for gamers by gamers!

We host tournaments on all of the popular games with prizes, For Example we have hosted a Modern Warfare 3 tournament which had prizes worth up to £70!

For Any other of our events will be posted below.

Any Site wide updates will also be posted below!
Hey Guys, We are going to run a closed beta on a new site we are developing, This site won't replace this site but will be interesting for quite a few of our members.
We are going to choose 20 Active Members to take part in this Closed Beta.
The Closed Beta will be launched next month.
We will be looking for your opinions and more importantly to test if the site is ready for an Open Beta.
Please post below if your interested and We will make closed beta accounts for members of this community.
Requirements are:
- No Serious offences in the past 3 Months.
- Been a member of this site for longer than 6 months.
- Over 500 Posts.
- Are active every day or so.
Please do not apply if you can not give constructive criticism. We are at one of the main stages of development now (Alpha) in which we have our staff as testers.
More details will be published on what this product is closer to the closed beta.
Open Beta will be opened once the main bugs are squashed.
Thanks for Reading.
Sousuke.
So as you can probably see I've enabled the donations bar on the site,
The reason for this is because I am looking at investing in some software for the site in which will make it into a better community.
First off is a "Clan" system in which you can add people into your clan on the site and the owners of that clan can make announcements and manage the members of their clan.
This will help organization of clans and will help clan leaders keep track of their clans.
Secondly is a Tournament system, I've been wanting to add one of these to the site since the beginning so getting funding for this has been an issue.
This will help our staff and members keep an eye on when they are going to be playing matches.
I am hoping to make this into one system but this will be expensive which is why I am asking for some assistance from the community.
I don't usually ask for much but this is for you guys, Improving the community is my number one goal!
Donators will get put into our Donators user group which will mean that the ads on the site will disappear (£5 or more)! And you can choose from 2 colours, Yellow or Light Blue.
Thanks for Reading.
Hello Guys,

I am going to be preforming an urgent site update in around an hour, This is to solve any existing issues and updating the site to the newest version of this site software.

Backups will be made but for now the site will be inaccessible for a hour or so.

Updates will be shown on our Facebook page:

https://www.facebook.com/TGForums

Everything posted will be public so you don't need to like it to check for any updates.

Thanks
Sousuke
We have done a few changes as part of our 2013 Plan,

Firstly, the Problems & Suggestion section has been removed and replaced with a Contact Us form, This will mean that you can report any issues with the site and/or contact us whilst banned through this form. You will then be contacted by E-Mail from our staff about your issue, Remember if you have a problem with any content posted by others continue to use the report function!

Secondly the Media and Events forum has been re-located into the Announcement section!

Thirdly we have patched a security issue on the system which ensures that your data stays secure!

And finally the Arcade & Classic and the Platformer & Puzzle Games Sections have been moved into the General Gaming section as these 2 sections are inactive.

Thanks
Sousuke!
So were having another Facebook Competition!

The Winner of our last one still hasn't attempted to accept their prize so Scot Corr send me a message!

Ok onto the new Competition!

A digital copy key (On Steam) for Saints Row 3!!




All you need to do is Like our Facebook Page to have a chance to win!

This closes on Thursday 13th December!
So as you are quite aware November hasn't been the best month for the site.

Due to constant DDOS Attacks and SQL Corruption this site has been offline more than not.

I've been working with our hosting provider to sort this out and thankfully (Touch Wood) We are out of the woods.

We would like that all members like our page on Facebook in which is where we post up when the site has issues.
Guys we are setting up a Facebook Competition to win a Medal of Honor Poster!




All you need to do is like our facebook page:

https://www.facebook.com/TGForums

We will then announce the winner over facebook on the 13th of October!

Good Luck Guys!
Hello All,

All warnings now expire after 60 Days (2 Months)

Due to the new system being installed the older warnings will not Expire automatically.

So how do you know if you've had a warning in the last 60 Days.

You can view you own Warnings,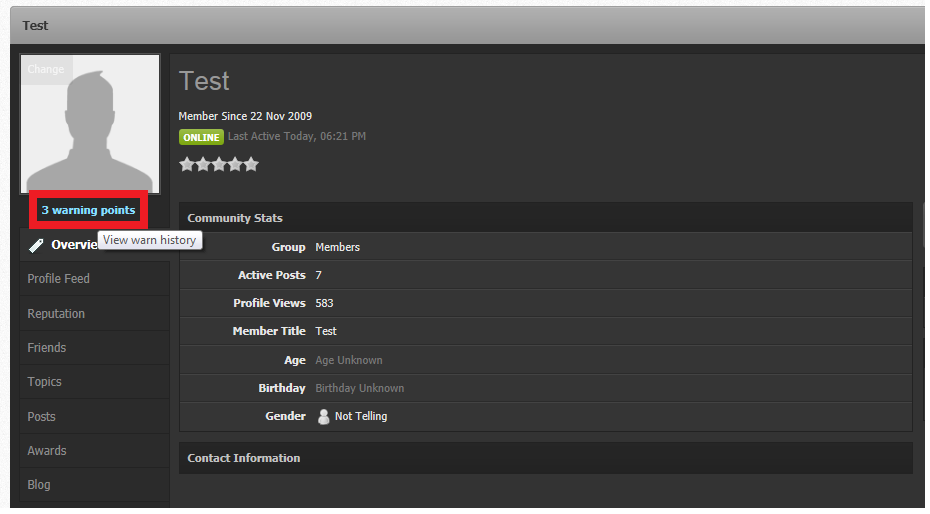 So if your last warning was older than 2 Months then you can apply to have Half or All* of your warnings removed.

* Dependent on what offences, Minimum of half will be removed.

How to get yours removed please send me a PM with the following Form:


Username:

E-Mail:

Date of last offence:

Once you've PM'd Me it can take up to one week for the application to be for-filled.
Battlefield 3:

This Tournament will be going ahead for those who want to take part however there are a few things to note;
This Tournament is for anyone to enter, no restrictions.
There will be no prizes
It will not be recorded other than from those playing and willing to provide their games
It will be played on Playstation 3 (this is where we have our server)
The gamemodes for the Tournament will depend on how many enter.
This is just a fun Tournament for you all to enjoy should you enter.
The reason there is no prize is pretty much because we cant think of a good efficient way to record the games due to there being no spectating. so instead we have decided, due to the prizes we have lined up we will be holding the bigger Tournament on..
Call Of Duty: Modern Warfare 3:
This Tournament will be up for those who want to take part;
Anyone can enter, with the exception of staff members.
Prizes include Black Ops II and a very sexy Dualshock 3 Controller.
Every game will be recorded by myself, xdarkliquid or Riko
It will be played on Playstation 3
This will be a GunGame mode Tournament
The reason this tournament will be in GunGame is due to the fact Black Ops created GunGame so it would be a good tribute for BlackOps II. Free For All has already been done for one of our tournaments so we want to make it feel new and bring some fun into it. GunGame isnt set in stone so let us know what you think of the tournament and will you be entering aswell as what you think of the mode.
So we are currently in talks with sponsors to help you win better prizes and have a much better experience in our tournaments here on TGForums.

We are currently looking into holding a Battlefield 3 Tournament. Should there be enough interest in this there will be one of following set-ups (these are not set in stone);

Squad Deathmatch: Four squads pit it out to win the battle, with the top two squads going through to the next round eventually resulting in a Rush game between the two finalists.

Team Deathmatch: The same as the previous other than it being one team against the other also resulting in a rush game for the finals.

Should this go ahead, depending on the number of entries we get shall decide which of the two options we go with.



Would you be interesting in this for a future Tournament? and why?

Also if you do not want a battlefield 3 tournament and have some ideas for a different one please let us know in here and should enough people want it than we shall put it together for you to compete against and win some pretty awesome prizes.
The Gaming Forums